Getting started with
logicoss mobile app
Getting Started Video
1st connexion
Initialize your Logicoss password
Here's how to do it!
You should have received an e-mail from no-reply@logicoss.net, asking you to create your password
Click on the link included in the email
Define your password !
Please note that will e-mail contains also your username.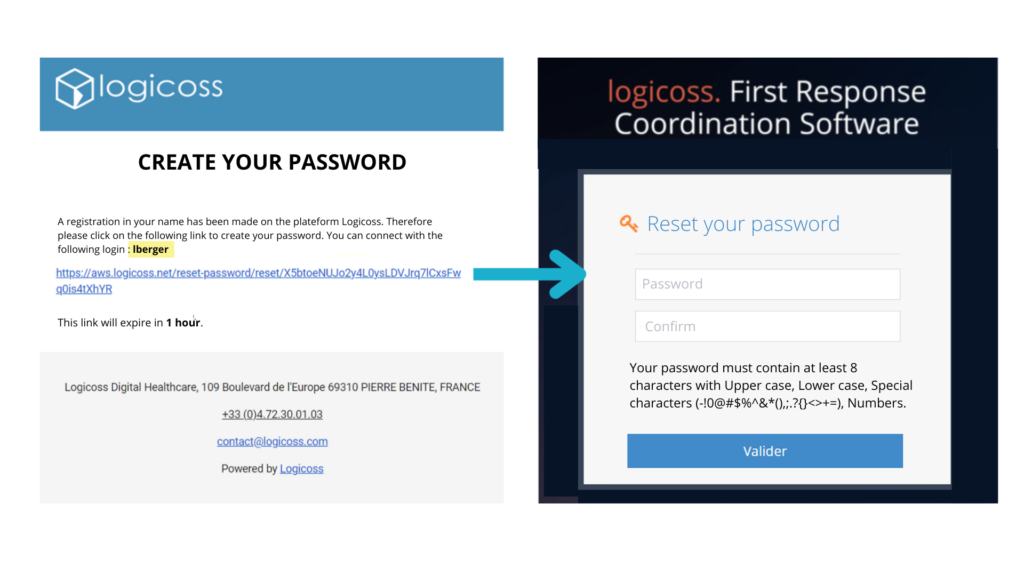 Did you received this e-mail some time ago ?
Click on the link in the initialization email
Enter your email again to receive a new link
Proceed as presented above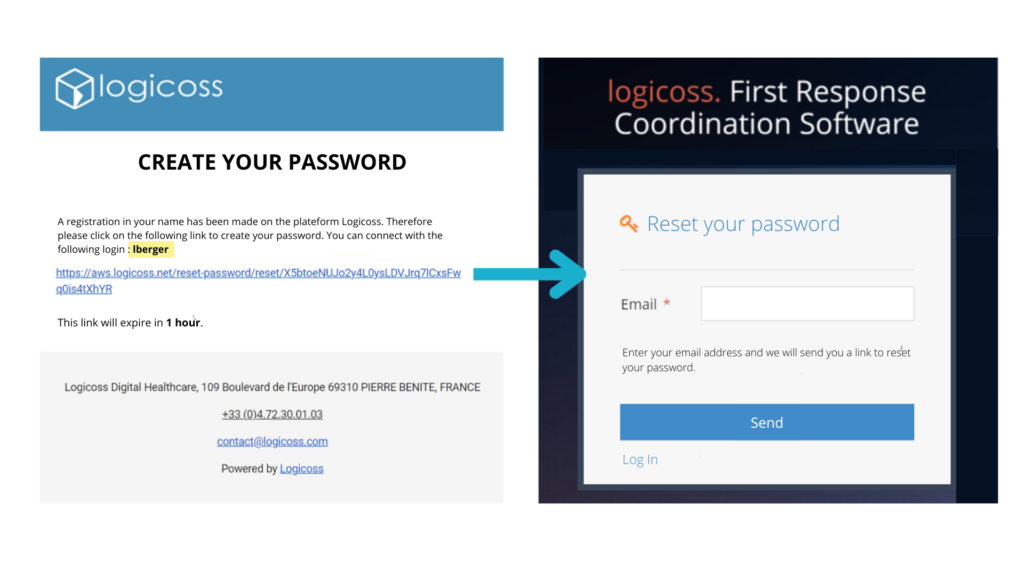 Install the mobile application on an iphone
Once the application is open on the web page, you can install the application directly on your iphone as follows.
Note: on Android, the application will offer you to install itself on the home page.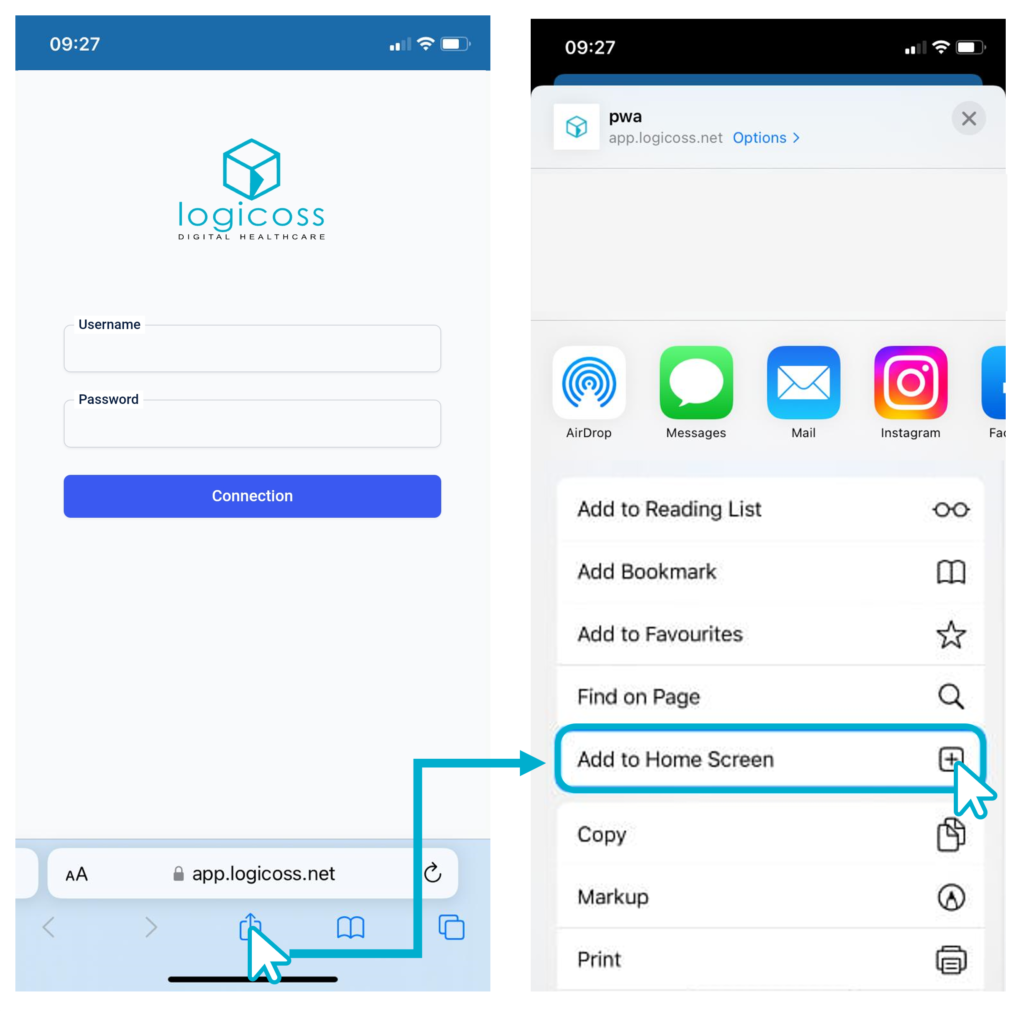 Search for a person in the app to access his medical history
/!\ To declare support for a patient, search for it via the "Search patient" field. This will allow you to automatically fill in his marital status and access his health questionnaire as well as previous support for the race: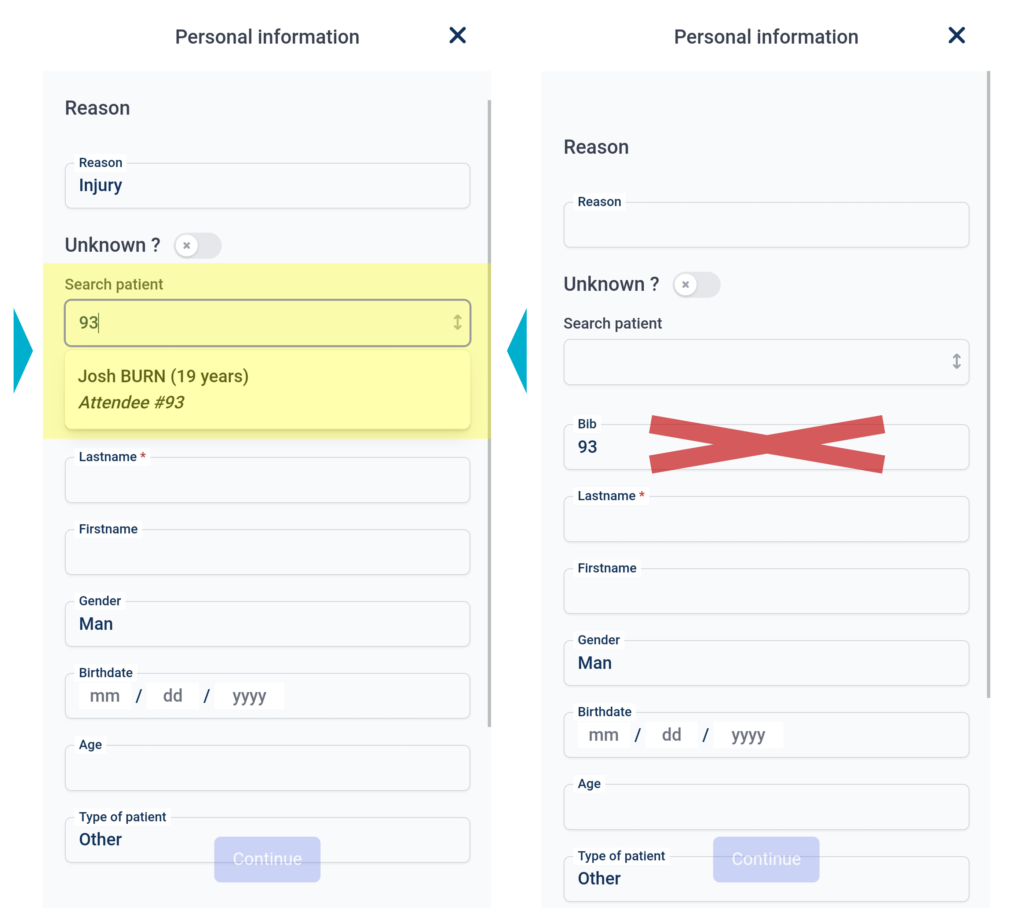 List of disorders & pathologies attributable to a medical encounter
Osteoarticular
Amputation
Knock – Shock
Muscle strain
Muscle contracture
Contusion
Cramp
Muscle tear
Joint pain
Ligament pain
Muscle pain
Crushing injury
Sprain or Strain
Compound / Open fracture
Inflammation – Irradiation
Dislocation
Tendinite
Muscle Tetany
Head injury
Dental injury
Minor limb injury
Fasciitis
Gastrocnemius strain
Various Bone, Joint and Ligament pain
Douleur Thoracique pariétale
Fracture
Stress fracture
Metatarsal fracture
Injury to internal
Spinal cord injury
Intracranial injury
Metararsalgia
Oedema
Periostisis
Pubalgia
sesamoid related injury
Fatty pads syndrome
Compartment syndrome
Patellofemoral pain syndrome (PFPS)
Patella syndrome
Inflammatory syndrome
Tendonitis
ENT injury
Bone pain
Burn & thermal related
Burn or corrosion
Sunburn
Insolation – Sunstroke
Stroke
Hyperthermia related coma
Hyperthermia
hyperthermia related coma during effort
Sunburn synonym
Hypothermia
Frostbite
Hypothermia related coma
Illness & allergies
Cephalalgia
Pain
Epistaxis / nose bleed
Skin – rash
Fever
Irritation
Toothache
Faint
Headhache
Allergic reaction
Red eye
Other minor illness
Skin maceration
Ear (earache, otitis)
Allergic shock
Angina
Septic shock
Influenza
Wound, hematoma & eye
Blister
Blindness
Conjunctivitis – Pink eye
Foreign body (in wound)
Foreign body (in external eye)
Abrasion
Scrape – graze
Envenomation by sting – bite
Bruise
Under nail bruise
Superficial laceration
Sting – bite
Ungrowing nail
Eye injury
Wound
Non-suturable wound
Open wound
Minor Wound
Sutured Wound
Vision Impairement
Forefoot blister
Toe blister
Heel blister
Drug related
Drunkenness – Alcohol Related
Substance related
Ethylic coma
Substance related coma
Both Substance and Alcohol related coma
Both Substance and Alcohol related
Various poisoning – intoxication
Medicine related poisoning – intoxication
Medicine related coma
CO poisoning – intoxication
CO related coma
Neurological
Rest required
Fuzziness – confusion
Convulsion
Neurological deficit
Exhaustion
Tiredness
Dizziness
Seizure
CVA – Stroke
Coma – Collapsus
Morton's neuroma
TIA – Transient Ischemic Accident
Genetic shock
Hypothermia related coma
Subduro hematoma
Meningeal hemorrhage
Hyponatremia
Self Treatment request
Adhesive Bandage strip/bandaid
Emergency Contraception
Hearing Protection
Simple Analgesia
Sun protection/ Sun cream
Tampons / Sanitary Napkins
Water
Medical Certificate
Initial Medical Examination
Mental Health
Fear
Anxiety
Disorientation
Panic Attack
Other Psychiatric Disorder
Analyzes and Biologies
Positive Covid nasal PCR test
Positive Covid saliva test
Positive Covid serology test
Positive Covid antigen test
Positive Covid nasal RT-Lamp test
Negative Covid nasal RT-Lamp test
Covid nasal RT-Lamp test error
Nasal Covid PCR test negative
Covid negative saliva test
Covid serology test negative
Covid antigen test negative
Cardiology
Cardiac arrest
Other cardiac
Blood pressure drop
Dehydratation
Chest pain (cardiac)
Collapse at effort ending
Collapse during effort
Electrical injury
Hemorrhage
Rythm disorder
Tachycardia
Hypertension – high pressure
Hypotension – low pressure
Aortic aneurism
Hemorrhagic shock
Urinary
Urinate inability
Urinary infection (UTI)
Red urine
Renal colic
Anuria
Oliguria
Kidney stone
Rhabdomyolysis
Respiratory
Covid case contact
Covid risk factor
Covid – Coronavirus major sign
Covid – Coronavirus minor sign
Cough
Respiratory arrest
Asphyxia
Asthma
Other – various respiratory issue
Breathing inconvenience
Drowning / immersion
Various respiratory disturbance
Desaturation
Chest pain (Breathing)
Hypoventilation
Tachypnea
Costal-Thoracic Flap
Pulmonary – Lung contusion
Hemothorax
Pneumothorax
Gastrointestinal
Diarrhoea
Abdominal pain (Gastro)
Nausea
Occlusion
Vomiting
Impaired fasting glucose (IFG)
Abdomen aigu
Diabetes related
Pelvis pain
Hypoglycemia with diabetes
Hypoglycemia without diabetes
Hyperglycemia with diabetes
Hyperglycemia without diabetes
Constipation
Retroperitoneal pain
Sub occlusion
Gynecology
Vaginal bleeding
Other obstetrics & gynaecology
Childbirth
Threat of childbirth
Vaginal infection
Death
Legend / user rights vocabulary
Paramedics & nurses wording